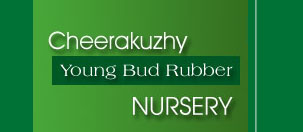 There is a great philosophical saying: "To arrive at certainity, we have to doubt first". It is applicable in the case of Young Budded plants too. Initially rubber growers were hesitated to make use of this new propagation technique in rubber. This was only because of misunderstanding that Young Budding as a new clone of rubber. However, due to our continuous efforts; we convinced them that Young Budding is not a new clone, but a new method of budding. Also we could confirm them that all clones of rubber can be propagated through Young Budding.



During 1994-97, we distributed 5-10 Young Budded plants as compliments to the farmers who purchased Brown Budded rubber plants from our nursery. The farmers planted Young Budded rubber plants along with Brown Budded rubber plants in the field and in a surprised manner the Young Budd plants were surpassed in all aspects of growth. Thus the Young Budded plants became popular among farmers and the demand for these plants increased. In addition to their own experience; the popularity and trust about Young Budded plants reached far and wide due to seminars and articles in media.
Now we are unable to meet the tremendous demand for Young Budded rubber plants. Based on our experience, the most covetous achievement of Young Budded rubber plants is that they become ready for tapping in 5 years as compared to the seven or more of Brown Budded rubber plants. This is confirmed by Shri. Valanthadathil Sankarankutty of Kuttanissery at Sreekrishnapuram who had planted 500 Young Budded rubber plants is "extremely satisfied with their yield" especially as everyone had warn him it was a risk to buy so many plants budded using a new technique. Thus the early tapping also increased our credibility.
The Rubber Board
K. K. Road
Kottayam


Mr. Sankarankutty
Valamthadathil House
Kuttanussery P.O.
Palakkad Dist
Tel : +91 9605639157, 04662285952


Mrs. Susan Joy a/s Susan George
Chemmerikkat Plantations,
"Sivagiri", Chemmerikkat
Shornur-1


Mr. Raghavan Nair
Rup Villa
Maruthur P. O.
Pattambi
Palakkad


Mr. Devasia Kurian
Cherunelly Estate
Pothundi, Nelliyampathy
Palakkad


Mr. John
Kaithamattam House
Uppukulam
Edathanathukara
Palakkad


Mr. Adv. K. V. Mani
Kalluvallil
Mannarkkad
Palakkad


Dr. Ramakrishnan
Modern Hospital
Kuttanadu, Pattambi
Palakkad


Mr. Thomaskutty
Koottiyani House
Zhangatiri
Pattambi
Palakkad


Mr. K. A Pheelipose
Puthampurayil
Mangaladam
Palakkad


Mr. Narayanan
Mudikunnel House
Kullapadam
Kumaramputhoor
Mannarkkad
Palakkad